SINGAPORE – A top global mobile industry player on Wednesday announced its top end entertainment unlimited handset bundled with more advanced technology and more diverse content.
 
Sony Ericsson formally introduced the "Satio" to members of the press from Asia Pacific during its media launch held at the Red Dot Museum last Wednesday.
 
"The top end entertainment Satio is 12.1 megapixel camera and then 3.5 inch, HD full touch display," said Hirokazu Ishizuka, Sony Ericsson's Corporate Vice President and Head of Asia Pacific Region.
 
First introduced as "Idou" in Barcelona , the Satio promises its users ultimate multimedia experience.
 
Ishizuka said that the company is confident with Satio's success against its competitors in the industry.
 
"I think we are very confident of our own solution–entertainment unlimited. Not only music entertainment experience [but] also imaging, cyber-shot technology and we have a 12.1 megapixels camera. On top of that, you can enjoy your PlayStation games so therefore this product is so powerful and we are very confident [of] this product's success," he said during the press conference.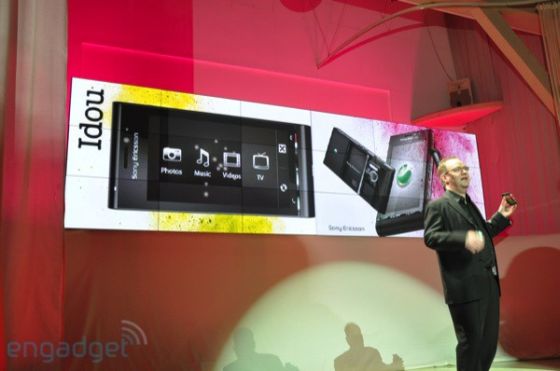 Busy people who missed out on their favorite hit movies or television series can watch these anytime and anywhere with the use of their Satio phone.
 
"Currently, we offer blockbuster movies, music videos and games. Basically, we have the option for the consumers to choose from a library to download three free of charge," Ishizuka said.
 
Peter Ang, Sony Ericsson's Vice President, Marketing Asia Pacific Region said that the Satio can get access to the internet through WIFI and 3G network.
 
"You can access to the internet very easily just one click and you can get into that," he said.
 
Ang added that Satio will be made available in the early part of the fourth quarter in the home region.
 
Sony Ericsson Product Planner Maiko Ishida said that experiences and lessons learned from consumers' feedback from the walkman and cyber-shot phones have been combined into the Satio.
 
"We have gathered all of the entertainment unlimited experiences that we have gained from the past cyber-shot phone. So, face detection, yes it's there. Smile detector and the panorama, Bestpic, its all there. Everything that we have gained from the previous cyber-shot is in here," said Ishida.
 
Ishida demonstrated to the press some of the features of the touchscreen phone. She also showed photos she personally took using her 12.1 megapixel Satio.
 
"So we have worked very closely [with Sony] to get the quality of the pictures. We also have this Xenon flash which allows you to take very bright pictures," she said.
 
The Satio, she said, is based on an open platform, Symbian, allowing its users "great freedom to download zillions of applications".
 
Satio is also the first Sony Ericsson phone to offer ninth High Definition (nHD) gaming that gives its users the best in mobile High Definition TV.
 
The Satio phone which will be available in three colors—black, silver and Bordeaux –also comes bundled with an expandable 8-gig card to store more movies.
 
The Satio also comes with the popular Asphalt Road and Prince of Persia games available in nHD format; a choice of three movie titles from a selection of more than 50 blockbuster movies; and a pick of three music videos from a library of up to 300.
 
The extensive content library of downloadable games, movies, music videos and latest tracks are exclusive for Asia Pacific consumers only.